In order for us to evaluate your needs and design requirements we require a certain amount of technical information.
For the majority of people who would like a roof lantern it is sufficient for us to have basic information on size and design in order to give an estimate or quotation. Obviously any drawings and digital photographs are a great help as are all the other basic considerations such as the aspect of the building (south facing?), use of the room below the lantern etc.
Obviously written communication with drawings (plan and section) is absolutely essential in order to ensure good detailing between our roof lanterns and the builder's supporting kerb / upstand.
For every roof lantern we supply we will provide a plan and section drawing detailing the correct measurements for the builder to work to. Some discussion may be needed in order to arrive at the correct detail where there are particular requirements.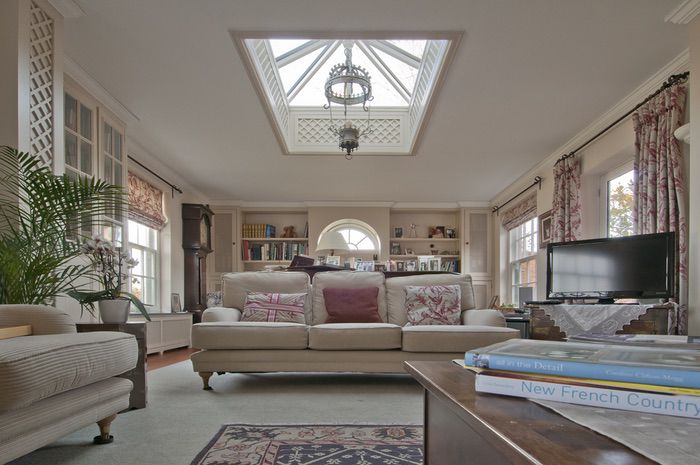 Downloads
Cill Detail on 50mm Upstand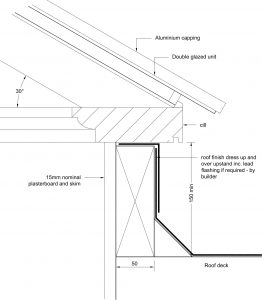 PDF
CAD
Cill Detail on 100mm Upstand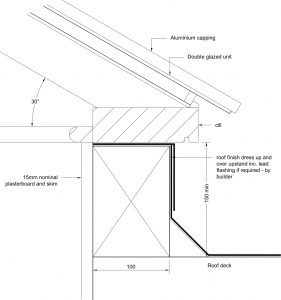 PDF
Typical 100mm upstand detail
CAD
Typical Insulated Upstand Detail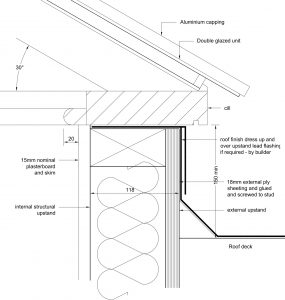 PDF
CAD
Typical Insulated Upstand for Large Lanterns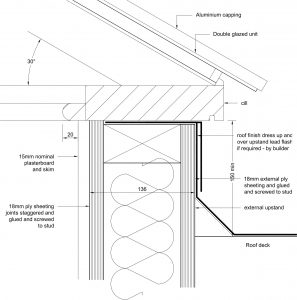 PDF
CAD
Typical Insulated Upstand Detail with Steel
PDF
CAD
Rafter Detail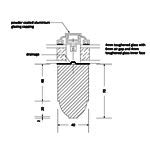 download
PDF
Ridge Detail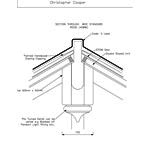 download
PDF
Skylight opening controls
Motors and Sensors
One option with all of our lanterns is to install thermostatic and rain sensors that control the opening and closing of the glass panels. We do recommend that a qualified electrician installs these units.
Please find below instructions, diagrams and wiring instructions for these units:
Thermostatic / Rain Controller
Controller with Rain Sensor (1-4 zones)
Manual Openers
Glass
Double Glazed Units
Building regulations require glass to be a U value of 1.6 or less. Our standard is 1.4. The minimum value is 1.0, which is the Planitherm 4s with Argon.
Inner Glass Panel
To meet building regulations, the inner glass has to have a coating on the inside face of the double glazed unit (inside the glass unit).
We use Low E / Softcoat (St Gerbain) glass U value 1.4 – which has a slight blue tint. It has a better U value than K glass.
You cannot have totally clear glass.
Outer Glass Panel
Solar control and self cleaning outer glass also have slight tints and this in turn fractionally increases the tint of the finished double glazed unit.
Where solar control and self cleaning are both required we normally use Pilkington Activ Neutral glass which has a slight but neutral tint.
To achieve a lower U value (better unit insulation value) Argon gas filled units reduces the U value by 0.2.
The best U value for double glazed units would be 1.0 (Planitherm 4s glass with argon).
Other Notes
To cut ultra violet light out (UVA) laminated 6.4 mm glass will stop 99 % of UV. This is used to stop fabrics and antiques fading. It also helps mildly when combined with a toughened layer of glass to cut down noise transmission (dissimilar materials help break up the soundwaves). For extreme noise 'Acoustic Glass' is available.
Triple Glazed Units
We can provide triple glazed units at a U value 0.9. Please ask us for more details.
Specification
h2>Standard measurements for roof lantern
Roof Pitch – 30 degrees
Sidelight height (where applicable) – 400 mm
Rafter width – 40mm
Timber
Utile / brazilian cedar or equivalent hardwood timber classified as durable / very durable.
Paint
We use advanced microporous paints and stains, which we have used very successfully over a number of years. The finish is satin white as standard. Coloured finishes are available on request (at small extra cost).
Opening Sash and Skylight Furniture
Where applicable, good quality brass or chrome fitting can be provided. Provision can be made for electric remote control opening.
Glass
Standard specification – Double glazed, air-filled units (4/16/4) with toughened inner and outer leaves conforming to current British Standards. As standard we use a K glass inner leaf which gives a U value 1.6. A whole range of specialist glass is available (softcoat which has U value of 1.4, antisun, argon filled etc).
Listed buildings and those in conservation areas may be exempt from building regulations for their glass specifications.
Safety
Pilkington T glass used achieves class A impact safety performance to BS6206:1981. Note: in the future references to BS6206 in BS6262-4 and relevant building regulations (e.g. part N in England and Wales) are likely to be superceded by BS EN 12600.
Glazing Cappings
As standard we supply white powder coated aluminium cappings with E.P.D.M seals which provide a maintenance free finish. If required, painted timber cappings (with E.P.D.M seals) can be supplied at no extra cost.
Opening Skylights (applicable to roof lanterns without glazed sidelights). Powder coated aluminium.
Note: Coloured paint finishes can also be provided at additional cost. We do have our own colour range but if a specific colour is required we can match your RAL colour or equivalent.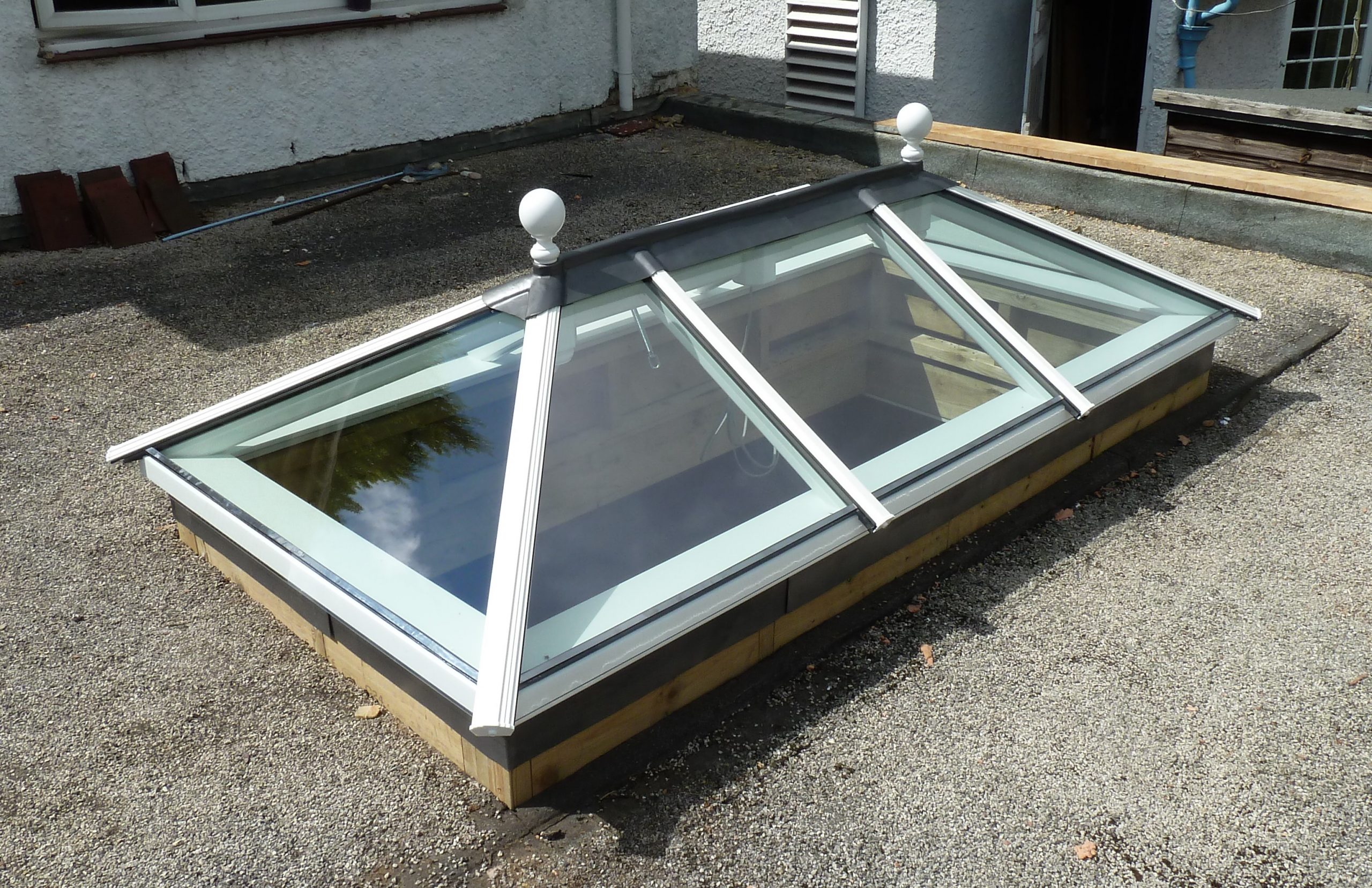 Stock Sizes.
Our warehouse roof lanterns are made to a standard size, making them an economical solution.