Traditional Hardwood Timber Roof Lanterns
Bringing Natural Light In From Above
Why Traditional Roof Lanterns?
Having spent the last 20 years specialising in timber roof lantern design and having produced over 8500 different lanterns, we have a huge amount of experience.
Our roof lanterns create fine lines, which maximises the amount of light they create, and are built from the highest quality materials. All our roof lanterns are low maintenance and a full guarantee offering outstanding value.
Bespoke Options
Considerations about the specification of glass used and ventilation requirements are often best discussed directly with us. We have a lot of experience in these areas.
Other options such as coloured finishes and ridge ornamentation are available – again, we are more than happy to give advice if required.
We can build a bespoke roof lantern to any size if structural considerations are met.
When evaluating the design of larger roof lanterns, it will be apparent that considerations of weight, structural integrity and lateral stresses are all important.
In some situations, restraining tie bars may be necessary although, quite often, the builders supporting kerb / upstand can be constructed to contain the lateral forces thus obviating the need for horizontal tie bars.
We have great experience successfully creating lanterns for listed buildings, our technical team are able produce all the drawings needed to satisfy planning.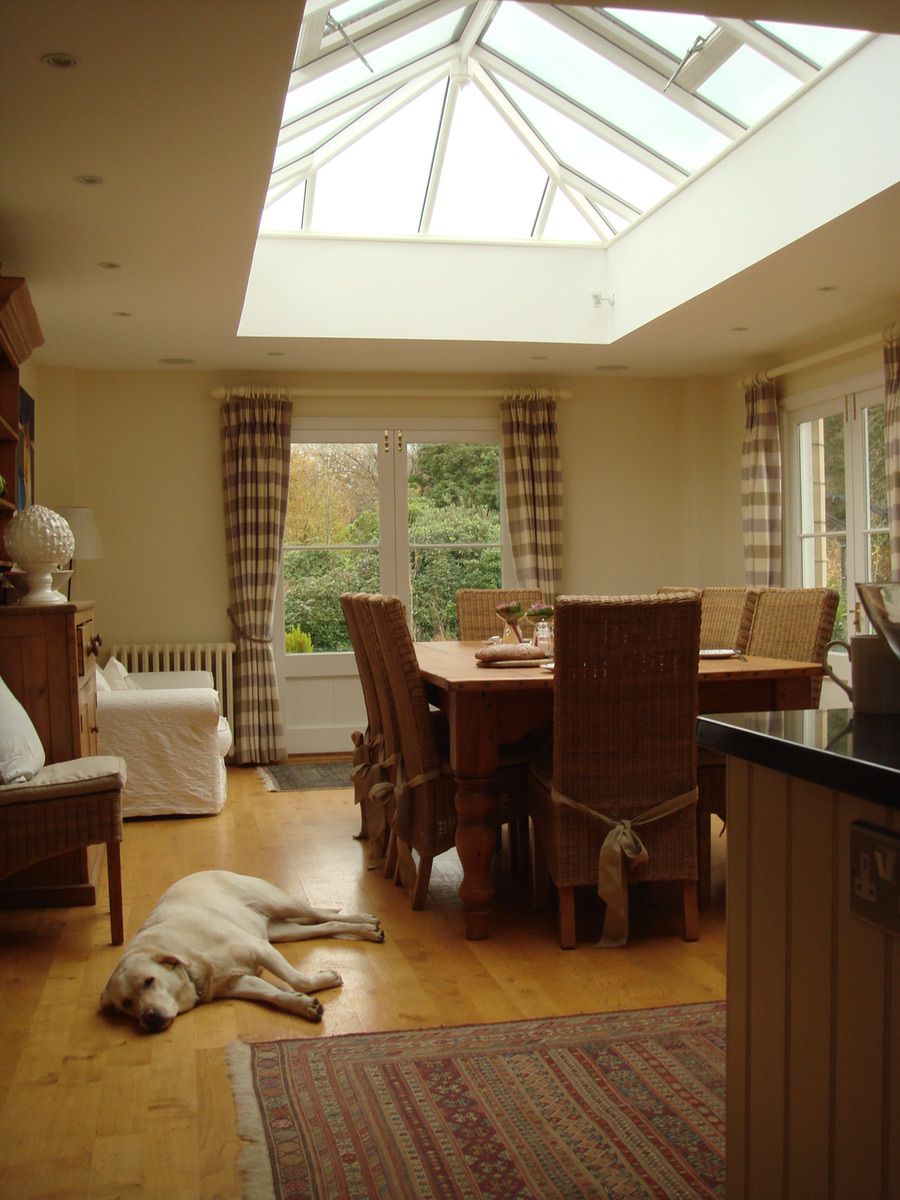 Colours
We are able to match any colour to paint either the interior or exterior of the roof lantern. We just require the BS or RAL code for the colour you desire.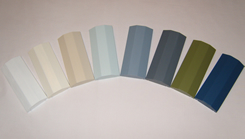 This is an example of some of the colours used on our roof lanterns. From left to right: white, warm white, stone, duck egg, smokey grey, pewter, moss green, dark blue.
Glass
Double Glazed Units
Building regulations require glass to be a U value of 1.6 or less. Our standard is 1.4. The minimum value is 1.0, which is the Planitherm 4s with Argon.
Inner Glass Panel
To meet building regulations, the inner glass has to have a coating on the inside face of the double glazed unit (inside the glass unit).
We use Low E / Softcoat (St Gerbain) glass U value 1.4 – which has a slight blue tint. It has a better U value than K glass.
You cannot have totally clear glass.
Outer Glass Panel
Solar control and self cleaning outer glass also have slight tints and this in turn fractionally increases the tint of the finished double glazed unit.
Where solar control and self cleaning are both required we normally use Pilkington Activ Neutral glass which has a slight but neutral tint.
To achieve a lower U value (better unit insulation value) Argon gas filled units reduces the U value by 0.2.
The best U value for double glazed units would be 1.0 (Planitherm 4s glass with argon).
Other Notes
To cut ultra violet light out (UVA) laminated 6.4 mm glass will stop 99 % of UV. This is used to stop fabrics and antiques fading. It also helps mildly when combined with a toughened layer of glass to cut down noise transmission (dissimilar materials help break up the soundwaves). For extreme noise 'Acoustic Glass' is available.
Triple Glazed Units
We can provide triple glazed units at a U value 0.9. Please ask us for more details.
Ventilation
We are often asked about this very important subject which deserves proper consideration. Here are some important relevant factors:
Is the room south facing?
Are there opening windows in the room?
Is the room a kitchen or dining room?
We often hear the comment that ventilation is not needed in the roof lantern because there is plenty of ventilation below. The point here is that overhead ventilation is far more effective than side ventilation and when there is heat build up on a windless day (which is often the case when south facing) an opening in the roof lantern will cause the hot air inside to rise naturally and create a very welcome cooling draught.
Trickle vents
These are available in powder coated aluminium and allow a small amount of air movement.
Top hung opening sashes
These are available if the roof lantern has side lights. They can be opened either manually (with a pole) or by electric motor and switch with or without various automatic control options.
Opening skylights
If the roof does not have side lights it is possible to ventilate using powder coated aluminium top hung skylights. Aesthetically, skylights do break up the purity of line to some extent. This is more noticeable on small roof lanterns since the frame of the skylight does take some of the light. Having said that the particular design we use works very well and is fully storm proof. Either manual or electric operation is available.
Delivery
Our price list for standard roof lanterns does not include delivery. When we give you a quotation we will include this cost: you are of course welcome to collect from our premises in Rye, East Sussex.
If, for geographic reasons, it is not possible for us to deliver then we will use the services of a professional delivery company. In this instance we will not be supplying the glass but we will give you glazing patterns and a specification for your local glazier together with a guideline figure for the likely cost.
Pricing
These options are available both for roof lanterns in standard sizes and also bespoke lanterns for which we can give you a quotation.
Decoration
Decorative finials on top (Balls or spikes as standard)
£32.00 + VAT each
Decorative Fleur de Lys on top of the ridge
£POA
Colour paint finishes
We do a range of standard colour finishes for which there will be an additional cost: a colour swatch is available on request. In addition we can match any colour required as long as we have a BS or RAL number, although this will incur an extra charge on top of our standard colour finish prices.
Ventilation
Trickle vents
£40.00 + VAT each
Manual opening sashes
£145.00 + VAT each
Manual opening pole with brass or chrome furniture
£35.00 + VAT each
Electric opening top hung sashes (sash plus motor - motors fitted but wiring by others)
£285.00 + VAT each
Choice of control system for above
A. Open/Close switch - £51.00 + VAT each
B. Open/Close switch with rain sensor - £182.00 + VAT each
C. Thermostat, rain sensor controlled with manual override - £315.00 + VAT each
Opening skylights - powder coated aluminium
Manual opening skylights - £315.00 + VAT each
Manual opening pole - £35.00 + VAT (brass or chrome furniture)
Electrical Opening skylights
Electric operation (per skylight) - £462.00 + VAT each
Plus control system as with opening sashes above.
All prices exclude VAT and delivery.
Architectural Decoration
As standard the roof lanterns, whether hipped or gable ended, have no external decoration on top of the ridge. External decoration is completely optional.
Some people prefer simple lines, just to have the unadorned lead ridge flashing. If decoration is required then balls, spikes and fleur de lys cresting are all available as an option.
Finials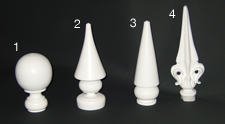 Types of Finial
1. Balls - Height: 150mm, Diameter: 90mm
2. Spikes - Height: 210mm
3. Concave - Height: 210mm
4. Fleur-de-lys - Height: 240mm
Cresting
Cresting - Height: 105mm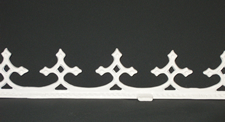 Technical Specification
In order for us to evaluate your needs and design requirements we require a certain amount of technical information.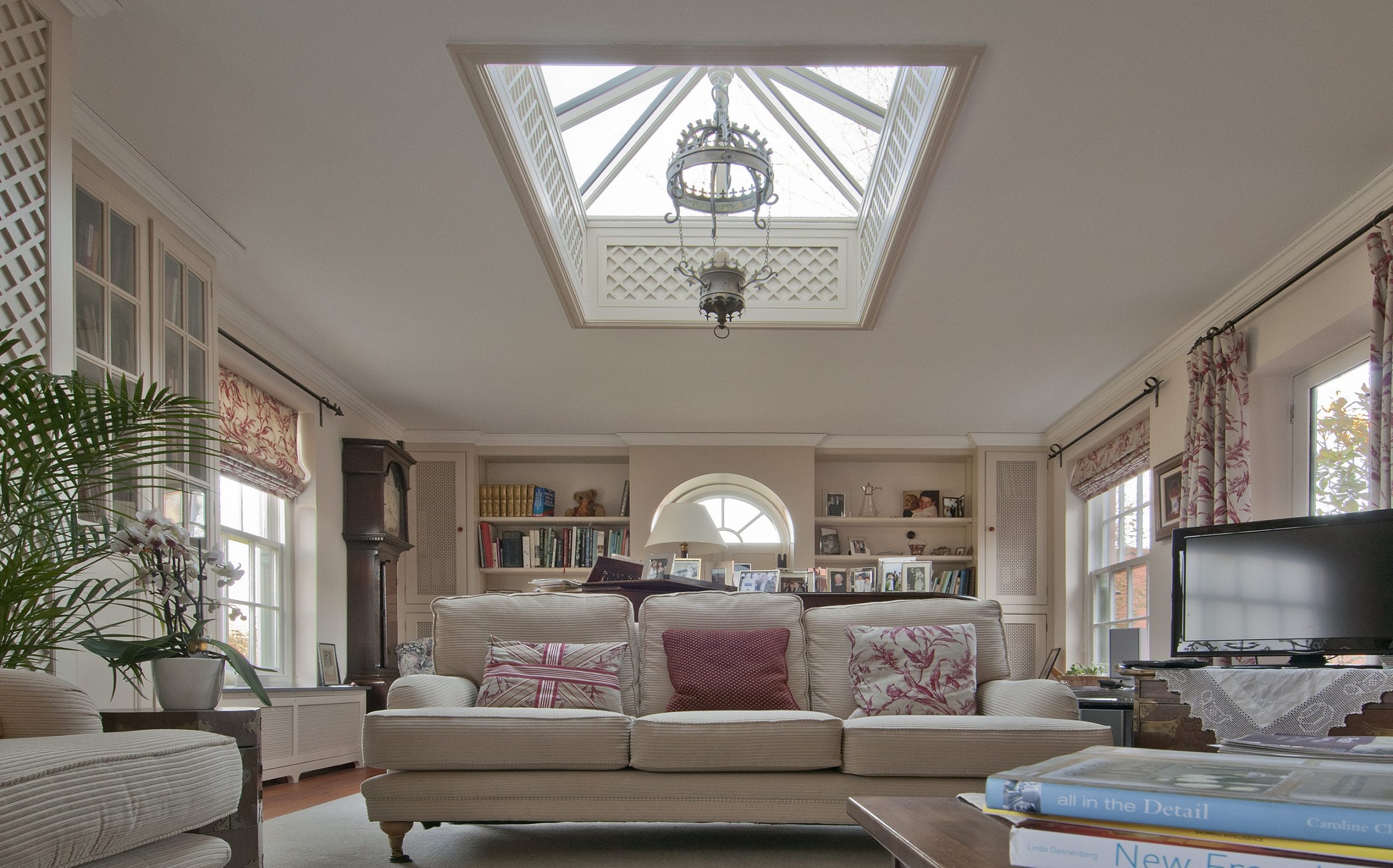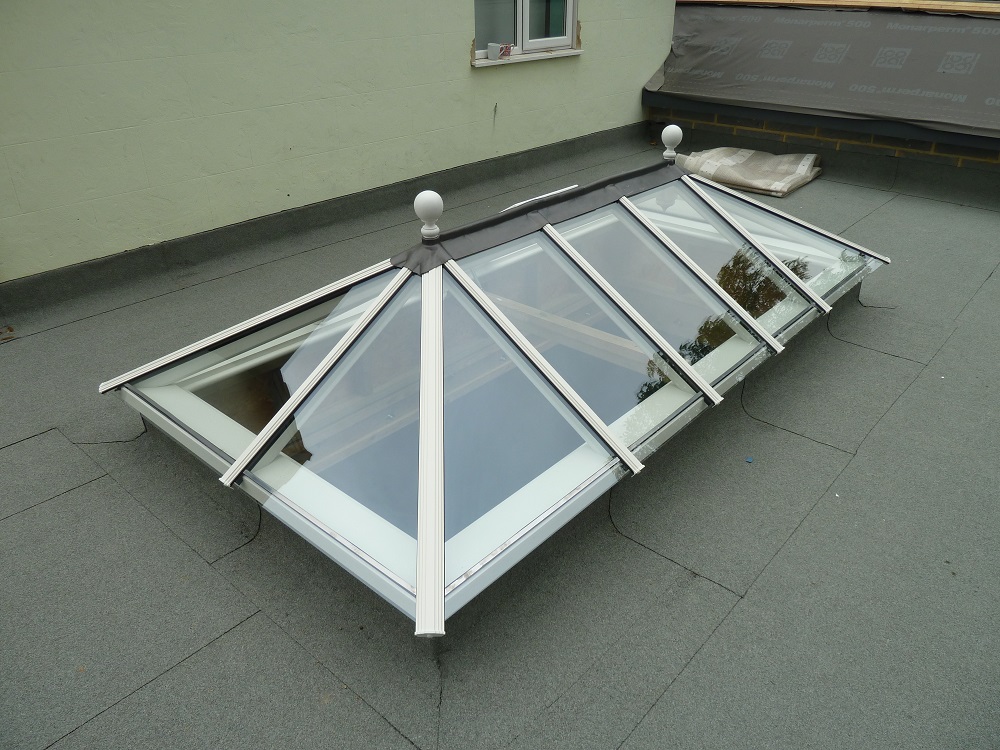 Stock Sizes.
Our stock roof lanterns are made to a standard size, making them an economical solution.